Marni at H&M Brocade Pants
Let me tell you a little story about these pants… It all began on a very early and dark Thursday morning in March. 5 o'clock sharp . The...
http://www.dogsanddresses.com/2012/03/marni-at-h-brocade-pants.html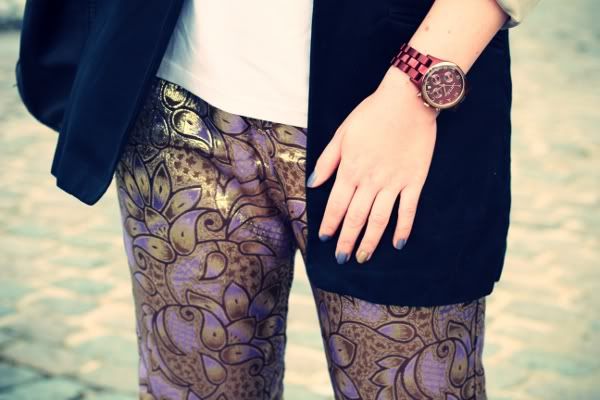 Let me tell you a little story about these pants…
It all began
on a very early and dark Thursday morning in March.
5 o'clock sharp
. The alarm on my phone wakes me – at an hour on which the nightlife-loving student in me often goes to bed. But this time is different, this time
I'm on a mission
. After snoozing for fifteen minutes it's time to crawl out of bed, change from PJ's into warm clothes and head out into the cold morning. First stop:
Paulien
's apartment, my partner in crime for the day. Together we hop on our bikes and ride – slightly nervous – to the nearest H&M (Meirsquare). "
How many people do you think will be there?
" – "
Maybe we should have gotten there earlier?
"… Worst case scenarios are rushing through our heads, game plans are being discussed and self-defense moves are being rehearsed. After our 1.5 minute bike ride we arrive –
and are shocked
.
There is NO ONE. Not a soul. It's 5.45 and we are all alone, on a desolated shopping street, standing in a non-existing line, waiting to shop (and feeling slightly ridiculous). We hoped to be one of the first 20 people standing in line, but we didn't expect to be number 1 and 2! A huge surprise, but a good one! We fantasize about having a lounge chair, a boom box and an electric blanket with us and Paulien entertains me with ridiculously random facts. The sun comes up, the time goes by and the Marni-lovers slowly start to multiply. It's 7:30 and we're all getting impatient. A crowd of impatient women who want/need to shop is dangerous, so the H&M staff starts to hand out bracelets. The first 20 people in line get a red bracelet and are allowed to shop from 9.35 to 9.50. 15 minutes to find, feel, try on and decide what to buy. Quite the mission!
To make a long story short, we all succeeded and got what we came for. In my case:
the brocade pants
. They run a tad big (
as does the entire collection – keep this in mind when browsing for Marni-things on eBay or Marktplaats!)
but are the perfect length and I love the shiny print. Of course I wore them immediately to the event we attended later that day at UPR, but I'll elaborate on that in a next post. I only bought the pants and a few accessories for friends,
but our little camping trip was worth it in the end.
The things we won't do for fashion..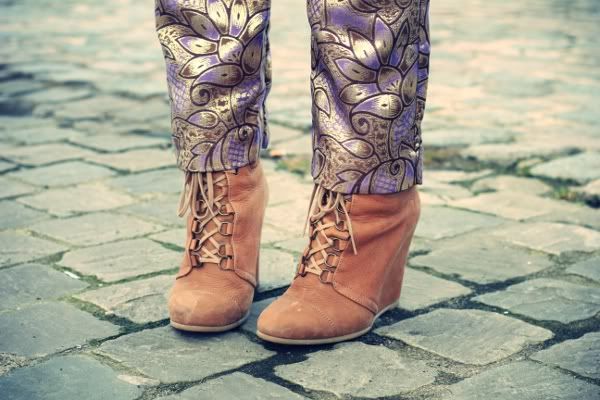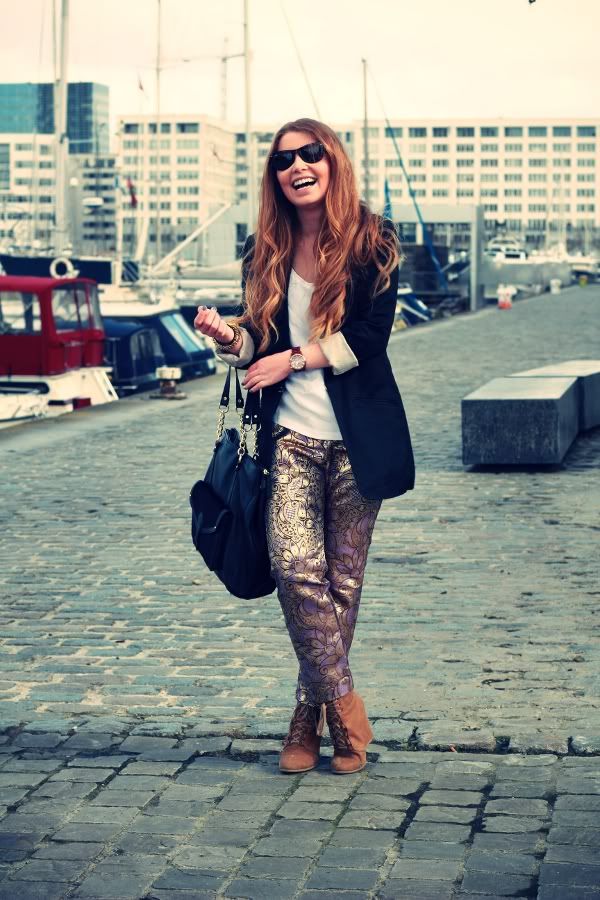 Wearing:
Blazer - H&M Trend
White shirt - H&M
Brocade pants - Marni at H&M
Shoes - Zara
Sunglasses - Ray Ban
Watch -
Marc by Marc Jacobs
pics by
Polienne