Laid Back Casual / Full On Theatrical
pants - Supertrash / tee - Topshop / pumps - ASOS / leather jacket - ZARA /  bag - Marc by Marc Jacobs Katie Bracelet Shoulder Bag / w...
http://www.dogsanddresses.com/2013/01/laid-back-casual-full-on-theatrical.html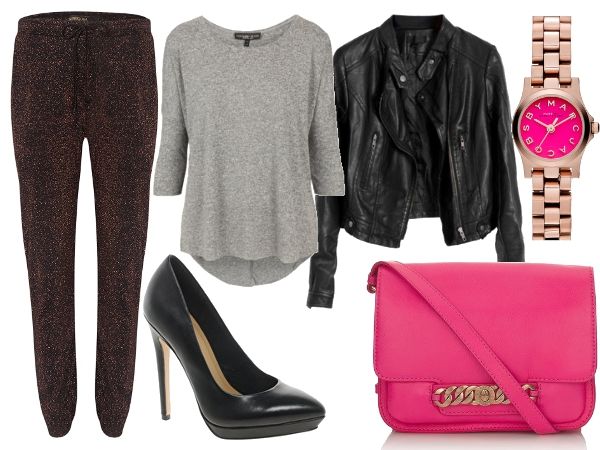 bag - Marc by Marc Jacobs Katie Bracelet Shoulder Bag /
watch - Marc by Marc Jacobs 'Henry Dinky' Bracelet Watch
Ahh sales.. The perfect time to
stock up on some good quality basics
and splurge on heavily discounted designer pieces. The glitzy Supertrash joggers are the perfect everyday trouser because of their shape. A soft grey shirt tones down the sparkles and the perfect leather jacket adds a bit of cool. These black leather pumps are an amazing sales buy - quality material, timeless model and easy to combine. Finish off this look with a few fun statement pieces - sales are the best time to score yourself a lovely designer bag or watch, like these from Marc by Marc Jacobs.
Ahh sales.. The perfect time to
give voice to your inner drama queen
and indulge in some
over-the-top fun statement pieces.
Try out pieces or go for brands you never bought before because you weren't really sure about the amount of wear you'd get out of them. With prices dropping (-50! -70! -90!), now's the time to walk the path less traveled by. Showstoppers and statement pieces GO!
This fun sequined dress might not last you through every event, but with this discount, who even cares? It'll definitely be a one-time headturner. Hello high heels and festive make-up, because one can never have too many glitter. Top off with a massive amount of interesting jewellery and a statement backpack and you'll have streetstyle photographers lined up for you.
For more fashion, from dresses to prism pyjamas, check out Avenue32.