Behind the scenes of my L'Oréal Shoot #MOVEYOURHAIR
A wake-up call at an ungodly hour prompted me out of bed – with a sight that resembled that of an actual blind mole I tried moving my body from my bedroom to the bathroom, while every drop of joy, pleasantness and reasonability remained in the fort made up of crisp white linen and the softest of pillows that is my bed.
The details of what happened after that are blurry in my mind – must be because that brain of mine doesn't start functioning before 8 (or after 3 venti Caramel Machiattos). But a few hours later I found myself in the middle of the Brussels city center, casually strolling around in my boyfriend jeans, leather jacket and with my Delsey suitcase behind me. It is seven o'clock by now, and I'm making my way to the studios.
The only certainty in life is that my iPhone battery will die in the most crucial of times. A: when I need the GPS, B: have to look up address information or C: need to call someone to tell I'm running late – in this case D: all of the above. But when I did finally got there, I was dragged into hair and make-up before I could say pain au chocolat. After meeting the team that would turn me into Tyra for the day, it was time to get profesh. A quick briefing with the stylist had us come up with an outfit to wear that day – a denim dress, not REALLY my number one choice, but due to a lack of other options, we went with it and I made it work by adding a high waisted skirt. My highest of heels on, my face primed like a pastry and my hair messy as hell: time for the first part of the video.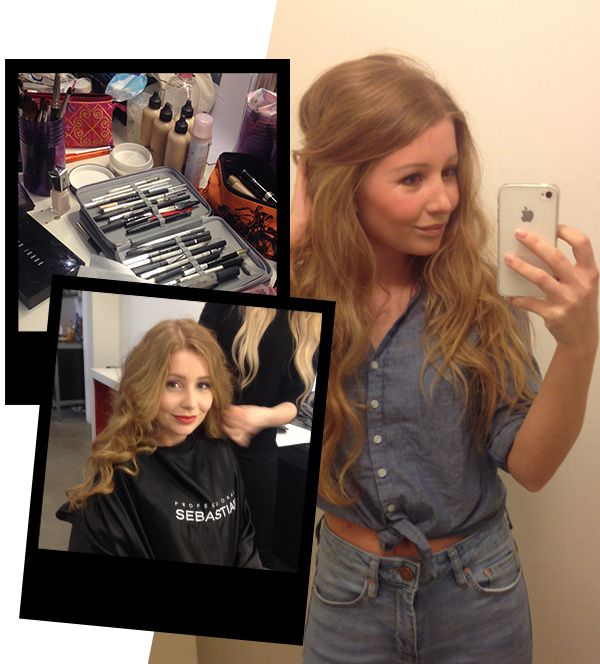 After a healthy lunch – and one too many chocolates while waiting on set – it was time to turn up the va-va-voom and transform my hair into one big, shiny and voluminous do. With big hair comes instant glamour, and I felt more and more at easy in front of the camera. Twirling, dancing and throwing confetti around: come on hair, we can do this!
Aaand that's a wrap! I packed my bags, put on my leather jacket and flew out the door while blowing air kisses at the crew. In my mind I vowed to channel my inner Kate Moss by not ordering a burger at the nearby fastfood joint, but then I walked past and did so anyway – a burger and a coke (as a tribute to miss Moss).
The L'Oréal video, which is about my favourite shampoo brand Fructis, will be online mid June. I can't tell you all the details just yet, but there may be an awesome contest attached and you might want to start using the hashtag #moveyourhair when uploading pictures of your best hairstyle, you know, just to get a head start! ;)
Shout out to great director and photographer Bob Jeusette who made me feel as comfortable as possible in front of the camera (see his work here), the hair and make-up artists, stylists and of course the awesome L'Oréal team. To be continued! Are you curious yet?
pics by @dogsanddresses and @jthesnowgirl