about
About the girl Nice to meet you! My name's Elien and I'm the blogger behind Dogsanddresses.com. 24 years, Antwerp based, graduated as a m...
About the girl
Nice to meet you! My name's Elien and I'm the blogger behind Dogsanddresses.com. 24 years, Antwerp based, graduated as a master of science in Film Studies & Visual Culture at UA and absolutely smitten by all things fashion.
I love writing, caramel macchiatos, exploring the world, fresh orange juice, London, high hopes, even higher heels, Breakfast at Tiffany's, peacock feathers, treasure hunting at flea markets, capturing memories and sharing them with you. I started this blog to collect, share and write about the things I love.
I hope you have fun reading my articles and looking at my pictures. Always open for feedback, I would love to hear your opinion on the content I provide. Drop me a line on elien@dogsanddresses.com.
About the blog
When coming up with a suitable name for this blog, I wanted it to say something about me and the things I love. The first part of this blog's name has to do with my best friend in the whole wide world, my beloved labrador Zelton. That hot summer day in 2006 when we rescued him from the dog pound has been one of the best decisions we ever made. He has been my sidekick and best friend for six years, so it was only naturally for me to incorporate something of him in this blog. His passing away in the summer of 2011 left me heartbroken, but I am grateful to have had such good company in him. My blog reminds me of him every day, but in a good way. Thanks for the inspiration Zel.
On to a lighter note, the dresses part. I started this blog thinking it would mainly revolve around fashion, so there just had to be some kind of fashion aspect in the name. I'm a sucker for dresses, and I happen to be a sucker for alliterations too, so when the name dogs and dresses popped into my head it just felt right.(ps. i'm sorry if i've lead you on thinking you'd get to see little doggies posing in frilly fuchsia dresses, but thankfully there's always Google for that.)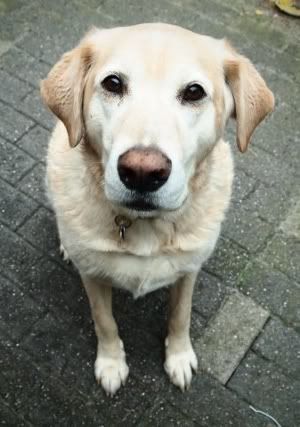 I love fashion. Always have, always will. It's an accessible form of art and i love to play around with it, explore new things and broaden up my view. By no means am i trying to present myself as an expert, this blog's merely here to capture my adventures and function as a bit of a diary. I would however want you to take a look and give me your honest opinion on things. I'm a twenty-something on a budget, which means I can't be parading around in haute couture all day long, but what I can do is read fashion magazines, browse collections on Style.com and learn about designers and their inspirations. This way I try to translate the oh-so-magical but yet oh-so-expensive runway looks into affordable outfits that I find on the high street, in vintage shops and on eBay.
Let's round up with a thank you note: I've never had the intention to get something in return with this blog, but since I started there've been many great moments and opportunities. First of all, there's all the interaction a blog brings along. I love reading and replying to all of the comments I get and I love discovering new blogs and making new friends along the way. There have also been some great events I was lucky enough to attend through my blog, at which I've met some amazing people. But most of all I need to thank my photographers, for without them this blog would not have been the same. This is all sounding a bit too award acceptance speech-y, but my gratitude is sincere. Merci beaucoup and have fun reading!